Today is Barbie's Birthday!
Barbie was created in 1959, (53 years ago), and as a tribute to Barbie, I have posted all the barbie themed cakes I have created over the past years.
I really enjoy decorating cakes with a barbie doll it sort of combines two of my creative hobbies, cake decorating and creating cool clothing.
I have used barbies as the main part of the cake and as props to finish the cake or tell a story. The cakes where I use barbie as the main character are my most favourite ones. These cakes usually take longer to create as well.
As mentioned before, today is Barbie's Birthday, here is a short of history about barbie, read more about Barbie on Wikipedia :
Ruth Handler watched her daughter Barbara play with paper dolls, and noticed that she often enjoyed giving them adult roles. At the time(1950s), most children's toy dolls were representations of infants. Realizing that there could be a gap in the market, Handler suggested the idea of an adult-bodied doll to her husband Elliot, a co-founder of the Mattel toy company. He was unenthusiastic about the idea, as were Mattel's directors.
During a trip to Europe in 1956 with her children Barbara and Kenneth, Ruth Handler came across a German toy doll called Bild Lilli. The adult-figured doll was exactly what Handler had in mind, so she purchased three of them. She gave one to her daughter and took the others back to Mattel. The Lilli doll was first sold in Germany in 1955, and although it was initially sold to adults, it became popular with children who enjoyed dressing her up in outfits that were available separately.
Upon her return to the United States, Handler reworked the design of the doll (with help from engineer Jack Ryan) and the doll was given a new name, Barbie, after Handler's daughter Barbara. The doll made its debut at the American International Toy Fair in New York on March 9, 1959. This date is also used as Barbie's official birthday.
Mattel acquired the rights to the Bild Lilli doll in 1964 and production of Lilli was stopped.
Here is one more cake I did with a Barbie doll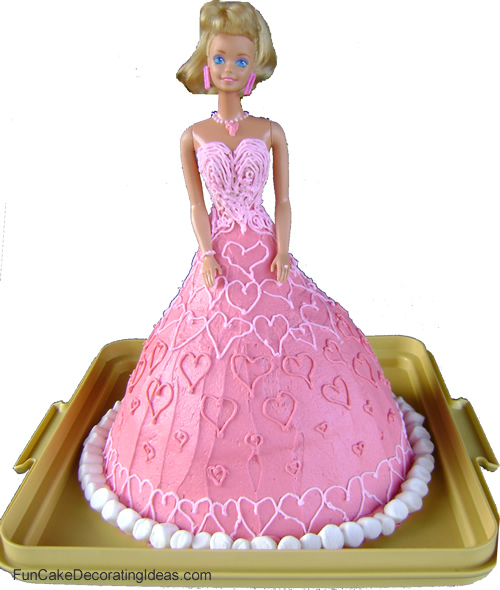 I hope you enjoy this post and get motivated to create your own cool cakes, for more Fun Cake Decorating ideas with step by step instructions, get my book "Amanda's Fun Cake Decorating Ideas Vol.1" Here
Cheers…Amanda…Excited Life Enthusiast!
P.S Don't forget to click the Like button in the Facebook box at the top right hand corner of this page. And when you visit my Facebook page, you will be in for a treat! There are some truly awesome cakes posted there!
P.P.S Here are some tools to help you with your Barbie themed cakes
| | | |
| --- | --- | --- |
| barbie cake pan | doll pick | edible image cake topper |